Recently I have been in contact with Lee Johnson of Old Bull Lee Shorts who was gracious enough to send me two pairs of their shorts for review. After receiving the shorts and wearing them around a bit I am posting my full review of them below.
A little about Old Bull Lee
Lee Johnson was kind enough to give me some insight into how the company came to be and what it stands for. He started out as an architect and in 2009 decided to change paths and go the route of starting Old Bull Lee shorts. Initially it was extremely difficult, but he did his due diligence and learned how to construct shorts on his own so that he knew exactly what was going into the products he would be selling. He also went into detail about how now that they have the product figured out they are working on the business end of things and that is very difficult. Fortunately, for everyone who is interested in great shorts, the bottom line of Old Bull Shorts is that the customer is happy. In my opinion, at the end of the day, that is the only thing that matters… if your customers aren't happy, you aren't doing it right. With that said, lets check out these awesome shorts!
Reception of the Shorts
I received the shorts in a standard cardboard box and each pair was neatly folded and wrapped in a sheet of tissue paper with an Old Bull Lee Sticker on it. I was informed by Lee before I got the shorts that he was in a hurry to send them off to me so I did not get the presentation box. While I am a strong advocate of the presentation box and fancy wrapping of a product, the tissue paper with the nice simple sticker was still better than nothing.
The two patterns I got were #3 and #9.
At first glance, the shorts looked great. Solid construction, sharp patterns, contrast lining, great looking buttons… the whole nine yards!
Evaluating the shorts
The solid construction was indeed true, they have held up great. I discussed sizes with Lee before he sent me the shorts and we agreed to go a size smaller than I normally get because I have recently been shedding some pounds (more to come in my new health and fitness articles!) and he believes that most store-bought brands exaggerate their sizes. I agreed with him, and I am very glad I did. These shorts fit better than any other pair I own and they are really comfortable too.
Some nice touches on these shorts would include the contrast lining that is very unique, buttons for the fly that are flatter than a zipper, and the unusual patterns that are offered.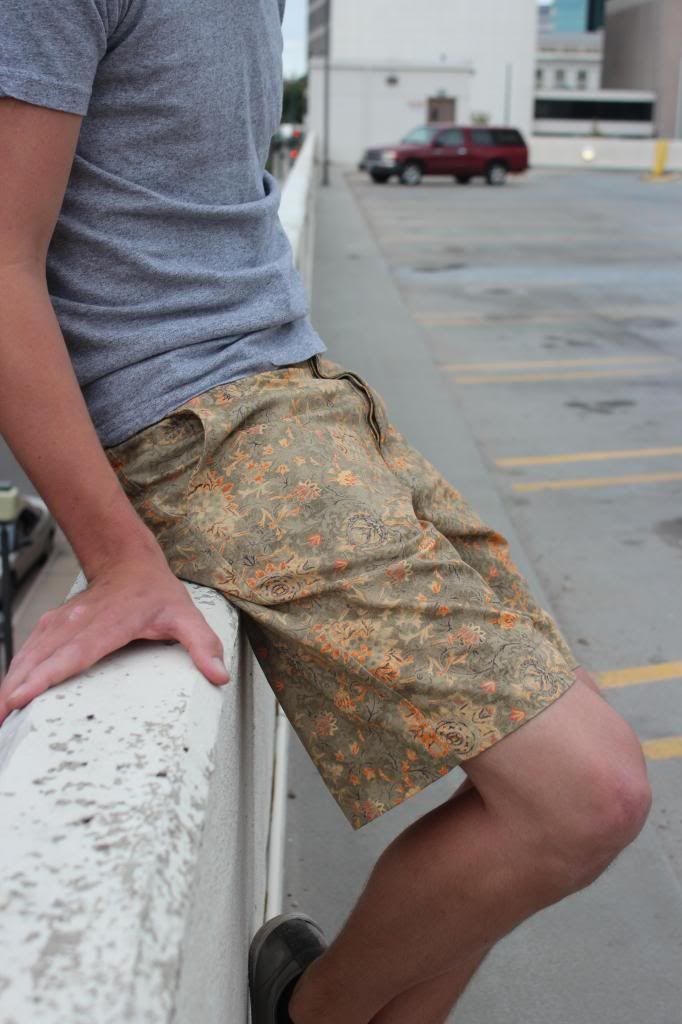 Final Thoughts
With a successful product, an honest business venture and great people like Lee Johnson, it's hard to say that Old Bull Lee isn't the best shorts company out there. These shorts are well-made, comfortable, a good fit and they come in many patterns. I never thought I would be one to appreciate shorts with such unique patterns, but I think these shorts have changed my mind.
Endorsement: If you are looking for a great pair of shorts you need to definitely consider Old Bull Lee. I am certain that if you decide to go this route you will not be disappointed. The only caveat is the price when it comes to these shorts… at a range of $79-$129 a pair, they aren't exactly affordable. However, if you can foot the bill they are definitely worth it in the construction alone. I can already tell these shorts are going to outlast any other pair in my wardrobe.