"We create custom white dress shirts for men who value style, comfort and above all, exceptional craftsmanship."
Milk Shirts is a company that does strictly white dress shirts for men. And based on what I have seen so far, they do a great job of it. They offer many white dress shirts, in three varieties; play, work and formal. I believe the reasoning behind offering only white dress shirts is because they are the absolute staple of any man's wardrobe and with that, should probably be of great quality. On their website Milk Shirts has some gorgeous photography of their shirts, both in their shop and in a look book. In addition to the great photography, they also have a video (embedded below) that explains how being 100 percent is important!
Ordering their products
I have been in contact with the owner over at Milk Shirts for sometime now, and they have been so kind as to offer me three of their Milk Shirts for review, one from each category. Ordering from their site was a breeze, I created an account and added my information and measurements to the account. Then when I went ahead and selected the shirts it automatically input my measurements. Each shirt is unique in fabric, collar, cuff, and contrasting fabric details. The hardest part of this ordering process was by far, selecting the shirts I wanted to review, because they all look great! Ultimately, I went with #18 New York (Work), #5 Paris (Formal), and #79 Las Vegas (Play).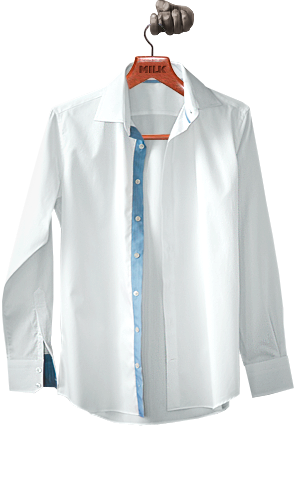 #18 New York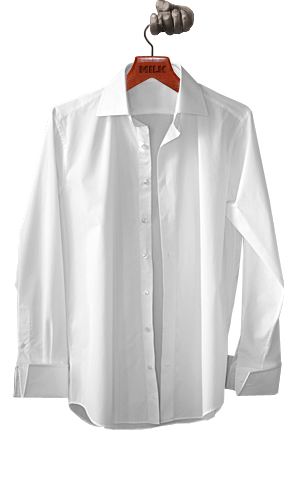 #5 Paris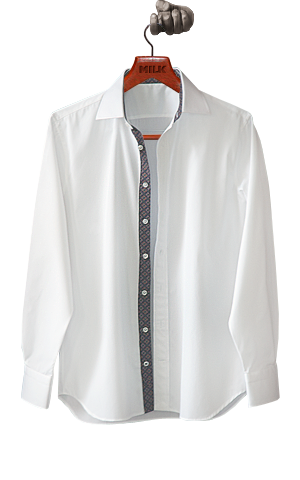 #79 Las Vegas
A few special details about Milk Shirts; they offer modifiable standard sizes or made-to-measure, all shirts (except button-down collar) come with a pair of 'MILK' engraved collar stays, you can have your shirt monogrammed (left cuff, chest/pocket, or waist) in multiple color options for no additional charge, all buttons are mother of pearl, and the final button on all their shirts has an "M" stitched on it (colored thread on their play shirts).
Final Comments
The shirts all look phenomenal on the site so I am really excited to review the quality in person. So far the Milk Shirts experience that I have had has been nothing short of exceptional. They offer a great website to view their products and learn more about them and the order process is so simple and sophisticated. While you wait for my review of their products, go check out their FaceBook Page for some motivation and their Instagram Feed for some inspiration!