Well, it's official… the new-world undershirts are taking over my undershirt drawer and they have become my go-to undershirts. As you can see in the last two 'battles' (#1 & #2) I have now tried out three different undershirt brands: UnderFit, Mr. Davis, and Sloane Men. In this article I will not have any new brands, but will be comparing the skin-tone version of Sloane Men's undershirts to my previously acquired Mr. Davis skin-tone undershirt. Both of these products are great undershirts and I will be pointing out the key details below about what I like and dislike about each.

The Comparison
It is important to know that even though both of these shirts are designed to blend in and not show through your shirt, they achieve this in very different ways. The Mr. Davis undershirt comes in one standard color, that they have tested and found to be the most best option for anybody to wear. Sloane Men went a different route and offers three different colors based on your skin tone. From lightest to darkest, you can get sand, scotch, or smoke colored. For this review I have received a scotch colored Sloane Men Invisible Undershirt.
In the images below you can tell that the two products are quite different in color, but after wearing them each under many shirts they both provide the same unique effect… they completely disappear. In addition to the 'invisibleness' of the shirts, they are each very soft as well. The Mr. Davis shirt is made of 96% bamboo and 4% spandex, and the Sloane Men shirt is 93% modal and 7% spandex. Both shirts offer an extreme comfort level compared to your average undershirt. I would consider the Sloane Men shirt to be a bit softer and the Mr. Davis shirt is much lighter, giving it the feeling that you aren't even wearing an undershirt. While each shirt fits exceedingly well compared to your average undershirt, I believe the Sloane Men shirt is a bit more fitted. The Mr. Davis shirt is still very snug in the waist though, which is the most important part as it keeps it from bunching up under your shirt.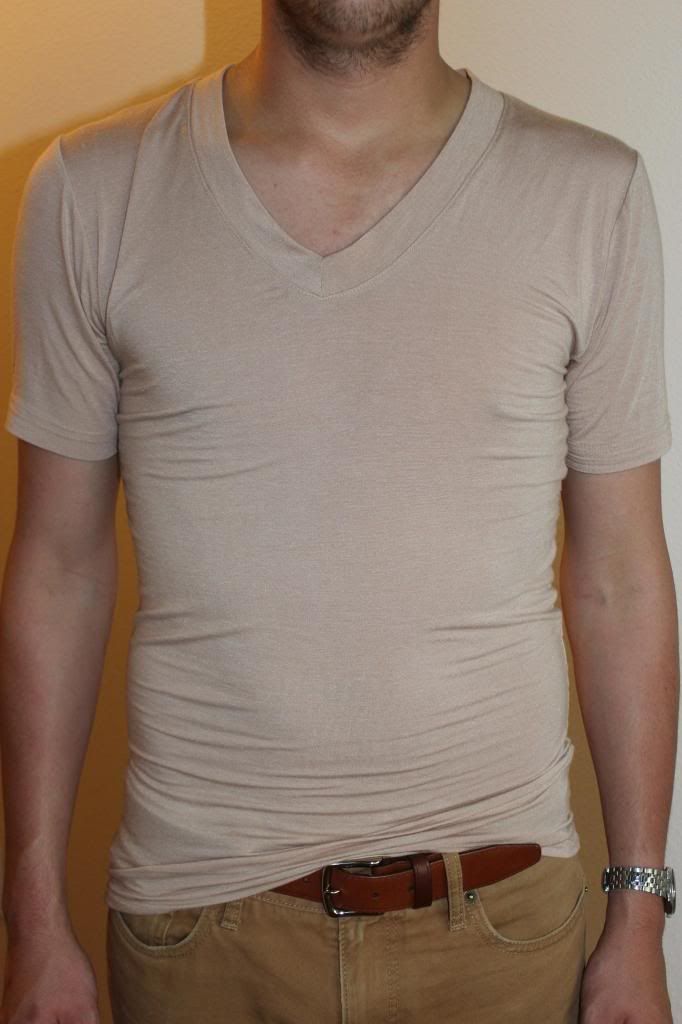 Sloane Men
Mr. Davis
Final Thoughts
You have now seen all three of the top undershirt companies out there and gotten a first-hand look at what is great about each one. While they all have many differences they still provide a common goal, destroying the embarrassment that is the undershirt for most men today. I hope that these articles have provided you with plenty of insight in to which undershirt is right for you… now go try one out and see for yourself how much better these undershirts are than what you are used to!