I was recently contacted by Lewis & Taylor Shirt Makers and offered the opportunity to review one of their shirts. After discussion of the product with their friendly staff I accepted their offer and headed over to the site to order my shirt. The site is nice & clean, and there is a large button to take you over to the design process. In addition to the design process there is a page describing the company, a fabric guide explaining about all the different thread counts, weaves, etc., and an accessories page offering some reasonably priced cufflinks.

Design, Size and Order
Lewis & Taylor offers over 450 different fabric options (ranging from a $27 test shirt to $160) and to select one is daunting to say the least. By clicking on each fabric you are able to see all the important details you would need to know, this includes thread count, pattern, weave, origin, etc. Once you have chosen a fabric you can then begin designing the shirt details. While Lewis & Taylor may not have the most fancy design process the functionality is there and you can customize all the important aspects of your shirt. An added bonus of the customizations section is that none of it adds additional costs, not even a monogram. Finally, the most important aspect of a custom shirt, the size. Lewis & Taylor has you take down all the common measurements you would see on any site (neck, chest, waist, arms, etc.) and they offer great images and diagrams to help you understand the measurements if you are new at this process. Below you will be able to see what shirt fabric I have selected and what customizations I have chosen.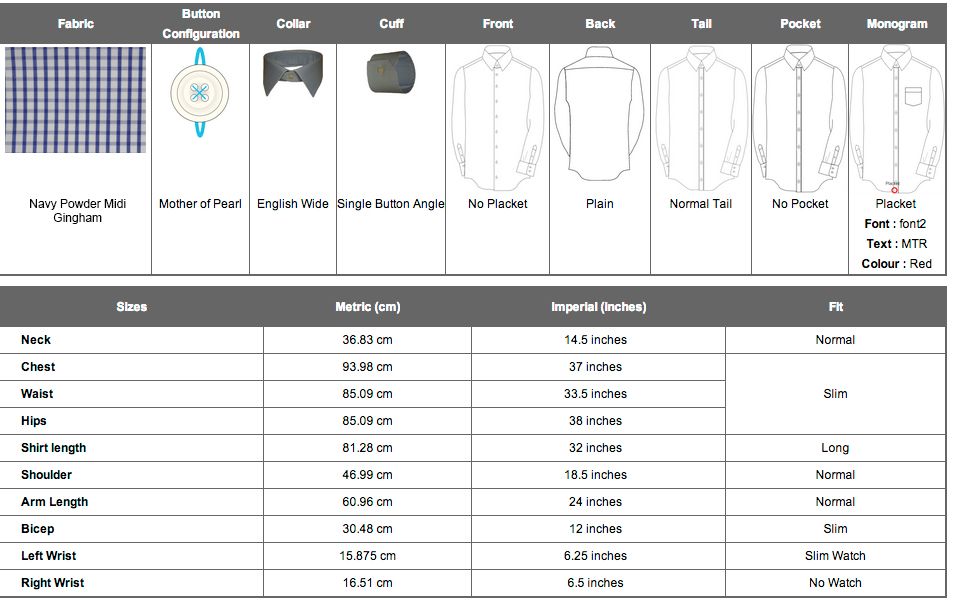 Once the entire design & measurement process was finished it was very easy to complete the order. Lewis & Taylor accepts PayPal as their payment method so you just have to login with your account and then approve the transaction.
My Initial Thoughts
Lewis & Taylor Shirt Makers comes off as a well established company that knows what they are doing. They pride themselves on offering great fabrics and their target market is often men who understand fabrics and the type of shirt they want. The design and measurement process is super easy and convenient, although it lacks some luster that other sites offer this in no way affects the shirts. I am looking forward to receiving my Lewis & Taylor Shirt for review!