Recently, I was contacted by Ben Brockland (Co-Founder) at UnderFit Shirts to review an undershirt from them. I happily accepted and the shirt was on its way. Shortly afterward I noticed en emerging company that does undershirts in a similar way (similar meaning, better than the average department store undershirt). This company was call Mr. Davis and I found them through Kickstarter where they raised an impressive $65,000 (with a goal of $10,000). After talking with Jeremy Chrysler who was in charge of the Kickstarter project, I soon had a Mr. Davis undershirt on its way as well. With this fantastic opportunity I have the chance to check out both shirts and compare them side-by-side — Here begins the battle of the undershirts!

UnderFit
The UnderFit Undershirts offer a lot of great qualities. These include a tailored cut (to fit better), extra length (to stay tucked in), and a high-quality, eco-friendly fabric called ProModal (feels great and conforms to your body). An additional bonus mentioned on their site is that the shirts are made in the USA. Ordering a shirt is very simple and they come in v-neck or crew style and are available online for 24 bucks.
The shirt feels and fits great. The material is definitely superior to your average undershirt and it truly does conform to your body. I got the v-neck style and it is a very deep V, the idea here being that it is to remain unseen underneath your shirt. I would say that for most of my dress shirts, the UnderFit shirt is well hidden, but on a few lighter shirts you can still see the arm line if you are searching for it. Overall, the material is great, it fits well, and it is extremely comfortable.
Mr. Davis
Also coined as, The Gentleman's Undershirt, the Mr. Davis claims to be the end all be all undershirt. They have fixed the broken undershirt that we have all been wearing. The three main points for this shirt are comfort, fit and style. The comfort comes from the fact that these undershirts are made from bamboo and spandex, providing softness, stretch, warmth in the winter and coolness in the summer. The fit comes from the omni-directional stretching, the cut, and added length to stay tucked in. The added detail for Mr. Davis undershirts is that they are a different color. This means that they don't show up under thin or light-colored shirts.
I received a v-neck from Mr. Davis undershirts and the V is very deep to hide the collar under your shirt. The color is much darker than I was expecting after seeing the online images. The shirt is very soft and stretchy. It feels good and conforms to your body as expected with a stretchy material. I did test this shirt underneath a few of my lighter shirts as well. If you press the shirt up against your body you can tell there is an undershirt, but in general use it is invisible.
The Comparison
I have never really been the type of person to care about what undershirt I had on. I've always worn one, but a simple white (v-neck or crew) t-shirt always did the trick for me. UnderFit and Mr. Davis may have completely changed this for me. After wearing each shirt numerous times, they are both fantastic products and they both have their positives and negatives. The UnderFit shirt hugs your body a bit more making it fit a little better and providing a bit more comfort in the chest and waist regions. Certainly this may vary on your size, but I feel that I have a pretty standard build. I don't consider it a bad thing that the UnderFit shirt is pure white, but it is rather smart of Mr. Davis to find a shirt color that blends in well with most skin tones in order to provide the hidden shirt look.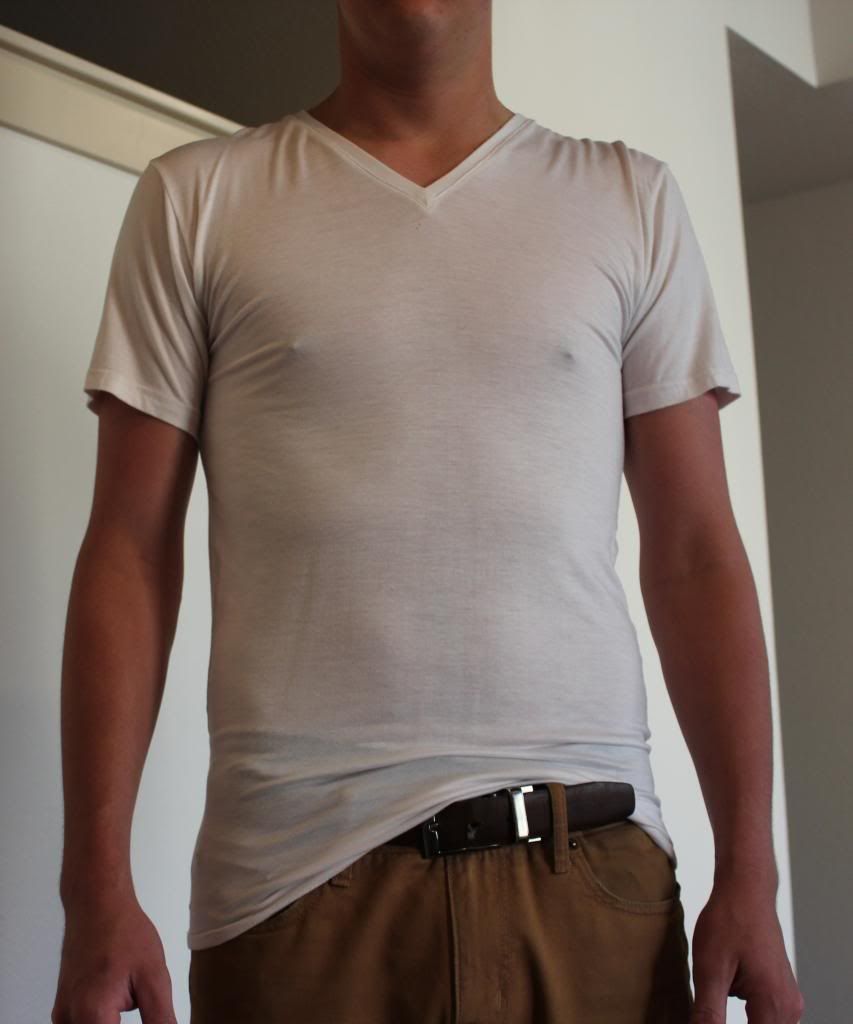 UnderFit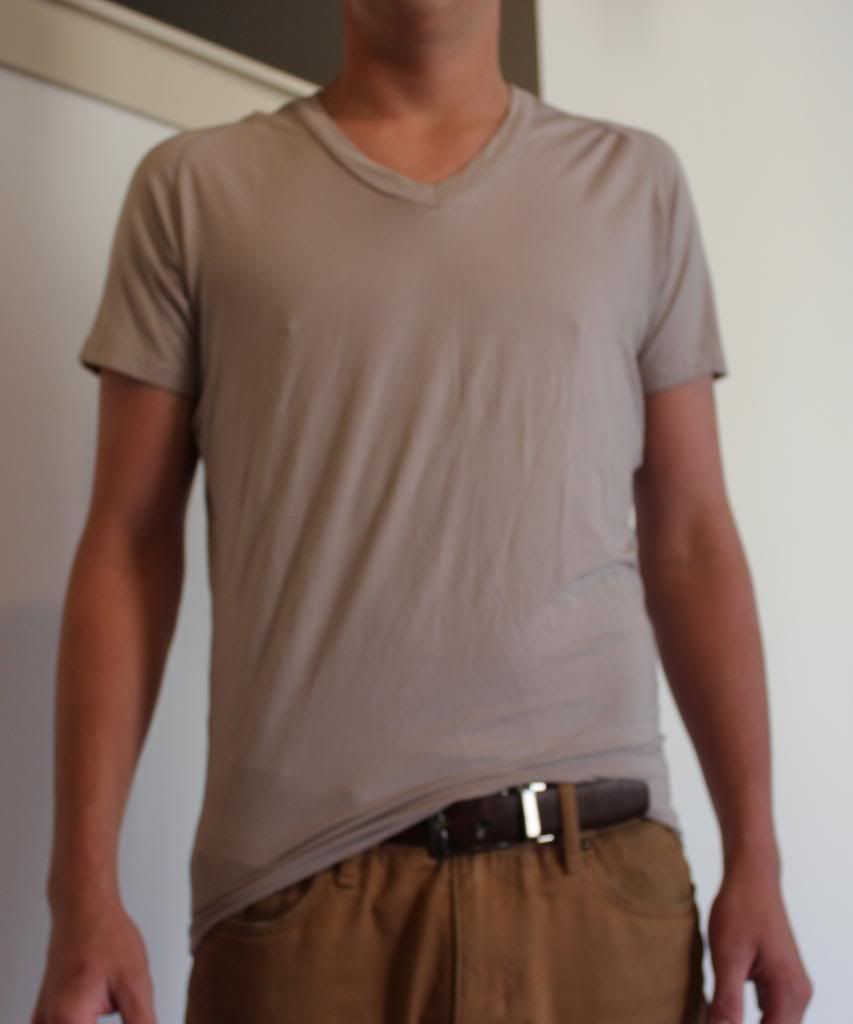 Mr. Davis
Ultimately, I would lean towards the UnderFit shirt for standard everyday use, but the Mr. Davis shirt truly comes in handy for those more formal events when wearing a thin white shirt is unavoidable. Either choice is eons better than wearing your department store undershirts though!