Purely Hand Made Custom Dress Shirts
Since 2003, Natty Shirts has been offering hand-made custom dress shirts. The boast quality, workmanship, customer service, and a seven-day delivery to your door. This is definitely the quickest I have heard of any custom-made shirts being produced and delivered. You can read more about their quality shirt making from them, but one thing that stuck out to me was the 'Fabric Pattern Flow' mentioned on their site. It explains that they match up the patterns of every piece of fabric from the cuffs to the pocket. I don't know about you, but I have never seen another company mention that and I believe most don't pay attention to it either.

I was unable to find much detail on their site for a fit guarantee, but it does state during the design process that there is a Guaranteed Fitting.
Design Shirt
Natty Shirts has been kind enough to offer me a shirt for review, so here is the process I went through to design and order it.
The shirt designing process has three main steps: fabric selection, style choices, and measurements. With 120 different fabrics to sort through, fabric selection definitely takes the longest to choose what you want. After combing through the different fabric choices numerous times I finally decided to go with a fabric/patter called 'Tiniest Brown Blue'. As you can see from the picture below, this fabric has very small brown and blue checkers on a white base. The fabric is 100% cotton and 100% mercerized with 20% elasticity. Now that I selected a fabric it was on to the style. This part involves choosing the collar, cuffs, placket, pocket, pleats, and other minor personalizations. They show a folded shirt with your pattern and adjust the visible customizations as you choose them. Since the shirt is folded you don't get to see all the customizations, but this really isn't a big deal because they are standard options (back pleats, bottom style, etc). Sizing the shirt is fairly simple and requires eight measurements from you. They have small illustrations of how to measure each aspect if you are unfamiliar with this process. Below are the details of the shirt that I have ordered.
Collar: Classic Spread
Cuff: Corner One Button
Front: Sport
Back: Smooth
Pocket: Straight Pocket
Bottom: Round Bottom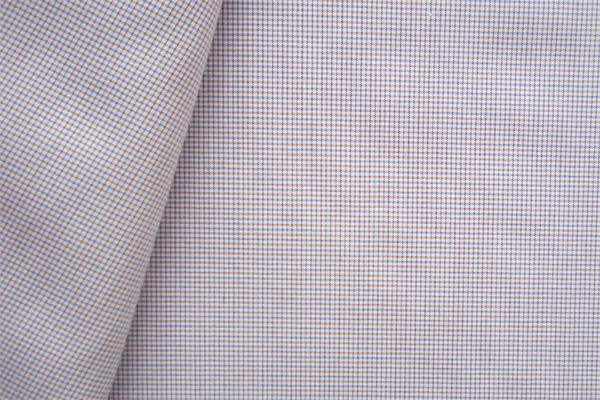 Initial Impression
Overall, I would consider Natty Shirts order process extremely easy and convenient. The one big issue that I have with their fabric selection is that there is no way to sort by different types of fabrics. This is annoying because there are ten pages of fabrics that you have to flip through to find what you want. Not the end of the world, but sorting would definitely make it more user-friendly. A seven-day delivery is pretty impressive, but it makes me a little weary of their production process. We will just have to wait and see. Check back in about a week or so for my review on the shirt!
5/13/13 Update: The shirt has arrived and I am currently conducting the review. A link to the review will be posted later.
5/21/13 Update: Check out the review of my Natty Shirt!