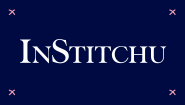 Today, I would like to talk about InStitchu, an online tailor-made suit and shirt company. Founded in 2010, by two businessmen who had a need for well-fitting clothing. InStitchu has since rocketed to the elite ranks of being one of the top start-up companies to watch in 2013 (BRW 'Emerging Companies 2013'). Based in Australia, they offer free worldwide shipping (for orders over $100), free measuring services, and free returns & alterations (details here). InStitchu truly is an online company serving every man, everywhere.

InStitchu offers a simple philosophy that includes 3 steps: Design, Wear, and Share. The idea here is that you get to choose what you want, down to the sleeve buttons and lining of your suit coat, along with many more custom features. Then, you get to wear the clothes that fit you specifically (Perfect Fit Guarantee). Finally, you get to tell everyone how great your custom fitting suit is, even though you didn't have to pay through the nose. This way we can all experience the great market of custom tailor-made clothing for a reasonable price, from the comfort of our own homes.
I do not have experience with InStitchu personally (at this time), but I have heard nothing but great things and I recommend checking them out if you haven't already. With nothing but a passion for excellent fitting menswear, these men have established a promising business. I am expecting InStitchu to grow a lot in 2013 and on.
Bonus: Right now, InStitchu is offering 10% off for my readers. Just use mtr10 code through the end of May.
Additional bonus for those in Sydney Australia: InStitchu has a Sydney PopUp store all this week, open from 10am-8pm. Located at 64 Erskine St Sydney NSW 2000 (book your appointment now).