Custom Dress Shirts, The Ratio Way
This is the concept offered over at Ratio Clothing. They have three staples of their custom dress shirt shopping experience; Impeccable Quality, Ratio Sizing, and Risk Free Shopping. I wont go to in-depth here about their process, because they do an excellent job explaining it all on their site, but I'll touch on each item briefly.

First and foremost, quality, Ratio Clothing notes that they put extra money into the labor and materials, ensuring that their custom dress shirts are far superior to any off-the-rack option you can find out there. They make their shirts in the US to provide jobs here, reduce their carbon emissions, and offer better quality control. Due to this, they provide a better shirt in all the important aspects.
Their ratio sizing concept consists of five different measurements to make a shirt that is custom, just for you. The first two measurements are suit chest and suit sleeve. After this we take a look at the dress shirt to get a neck size and sleeve length. Following this there is one final fit question; Would you like the Ratio slim fit or classic fit?
Last, but not least, the reason many people shop online today; the convenience factor. Ratio Clothing offers free shipping and easy returns for no hassle shopping. On top of that, if the product doesn't fit perfectly they will alter or re-make it for free! This takes all the fear out of purchasing something that you have never seen and hoping that it maybe, kind of, sort of fits.
In addition to having detailed information out on their site, Ratio Clothing's website is also extremely intuitive and functional. They have a very sophisticated how-to section that provides details on the sizing, fabrics, design, and care of your custom dress shirt.
On to the shopping experience
Ratio Clothing offers your basic dress shirt starting at $89 and going up in price and fabric quality to $175. They have many fabric and design choices ranging from a standard whites and blues all the way to gingham and tattersall options.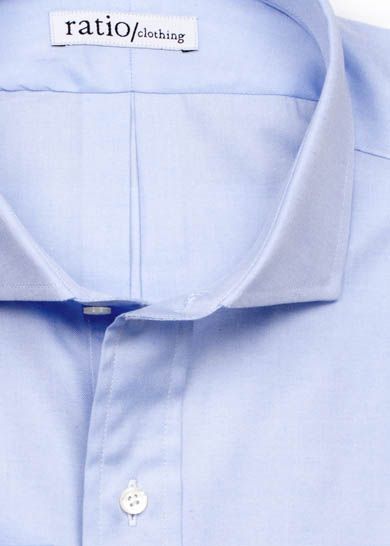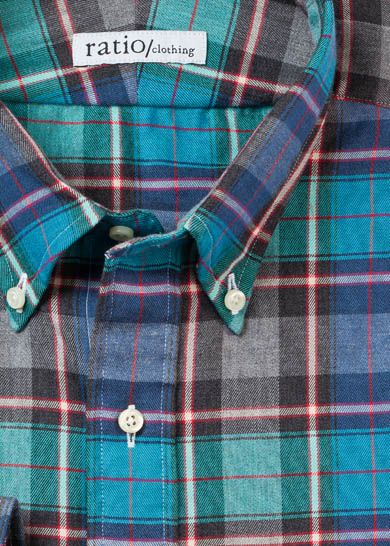 Shopping at Ratio Clothing is simple and comprehensive, all at the same time. You start by clicking shop and then you can narrow your options down by pattern or fabric type. I do think that it would be a good idea to sort the shirt options by price for those thrifty customers looking for their best bang for the buck option. Anyway, once you find what you are looking for you select it and then enter in the specifics of your custom shirt. This may differ based on each individual shirt, but the common choices are collar, cuffs, placket, back, pocket, and monogram. While there customizations are certainly not endless, they do offer enough options to get the shirt style you are looking for, or at least pretty darn close. Next, you enter in the five sizes mentioned above and then add the item to your cart. This process offers one of the quickest ways I have seen out there to order a custom shirt. The main thing I noticed they are lacking is that they do not have pictures of models wearing the shirts to demonstrate the different fabric choices and fit. While that might be a bit over the top, I think it would provide the customer with a better idea of how the shirt is going to look (and even give them style ideas).
Final Thoughts
As a whole, the Ratio Clothing way seems like an excellent idea. There site is great, both in design and functionality, and they offer a prime product at a comparable price. With this, I have been working with the staff at Ratio Clothing to place an order for a White Classic Pinpoint shirt. Look for a review of the shirt to come in 3-4 weeks!
4/25/13 Update: The shirt shipped today and will be here on Saturday. It shipped a few days before the 3-4 week window. Look for a review of the product soon!
4/28/13 Update: Shirt is here and the review is in progress. Will post a link here to the shirt review once completed!
5/3/13 Update: Check out the review of the shirt here!